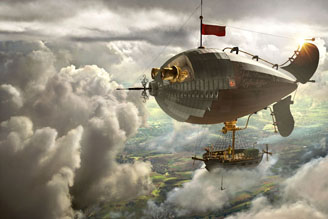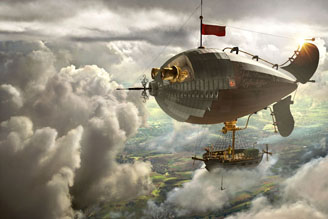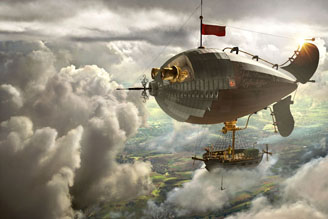 Airship by the photographer Uli Staiger is a piece of steampunk fantasy artwork displaying, "A future that will never happen, showing a past that doesn't exist." This digital piece shows an airborne point of view, watching a one man airhsip sail through a clouded sky, a rich green landscape passing below. This modern landscape is filled with bright gray, rich greens and the steampunk silver and gold hgihlights.
German native photographer Uli Staiger, born 1966, has spent the last 20 years as a photographer, 3D artist, and author of many books that dramatically influence other photographers and digital artist around the world.

Uli's artistic journey has taken him around the world, throughout Germany and New York. Uli is currently living and capturing inspiration in Berlin.

His innovative works are known and rewarded worldwide. His use of photo and image editing software combined with his artistic eye allow him to create outstanding works of fantasy and imagination.

Uli's works with still-life and landscape photography with a specialization in digital manipulation. He has been a professional photographer for more than 20 years and his distinctive style involves combining parts of many different images to form a new amalgamated form. This multiphase technique creates Surreal and imaginative examples of Uli's vision of our world.

His highly anticipated photography seminars are sold to capacity and are highly regarded in the industry.

Mahlstedt Gallery is proud to represent Uli Staiger and his thought-provoking and imaginative works.
Continental US Shipping
Shipping to addresses in the continental US is FREE. All products are shipped by common carrier from New York.
Click here for details